Facility information

2800 yen per person. Drinks can be brought in. BBQ by hand
The BBQ on the restaurant veranda overlooking nature is the best!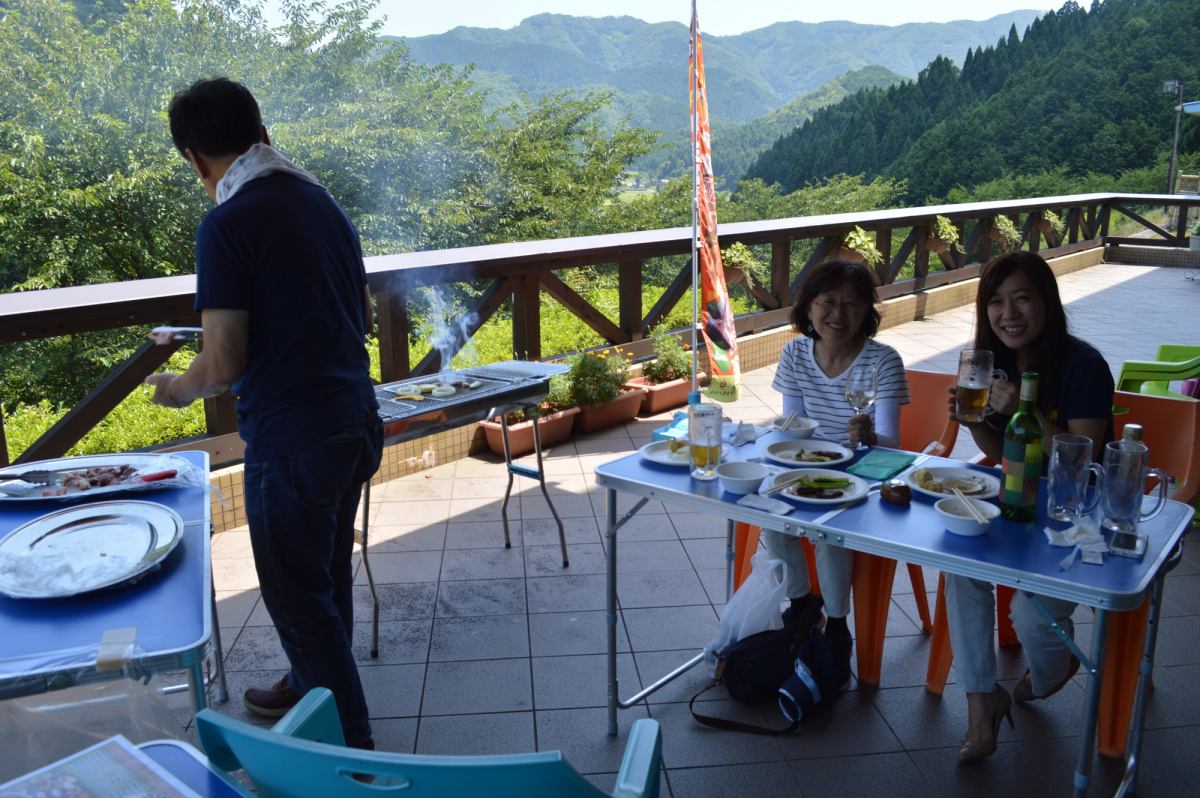 How about a barbecue with a family group (4 to 30 people) Rainy weather OK
Sold out 2 days after delivery! Miracle yogurt

Anyway, good!
Exquisite
Iwaizumi no Yogurt

220 yen(Tax included)

Sold out 2 days after delivery.Please understand

Local curry! High-end National Treasure Niomon curry was completed 700 yen (tax excluded)

Using high-quality Japanese beef from Kyoto, a high-quality curry named after the National Treasure Niomon, a tourist spot, has been completed. It is characterized by the spicy taste of adults and the red roux of Niomon.
Please as a souvenir!

Spinning snowman

Takeout sweets corner

More than 10 kinds of authentic pastry chef handmade cakes

Ayabe Onsen specialties, "Tochi Mochi", etc., shop souvenir corner



The well-stocked shops are full of local specialties, such as the famous Tochi Mochi.
Fresh vegetables fished from local farmers were sold at surprising prices,
Also, special products full of ideas using rich and reliable ingredients are only the powerful work of young migrants from urban areas that are growing every year.Please visit us and purchase.It is surely pleased as a souvenir.

Local grandma such as miso · Konjak · Yamabuki · Umeboshi · Crispy San pepper · etc. is not defeated

*Mainichi Broadcasting, Chichinpuipui, Koya's, Tochi Mochi and Tochi Mochi Senbei were interviewed.



Opening Hours

9:00~21:00

Contact Information

To confirm inventory of goods and shipping request to the following
TEL:0773-55-0262
mail:info@ayabeonsen.com

Wakayama Arita Mikan Winter Version Shop

All handmade local products

1st floor, Restaurant(Opening Hours)Last order from 10:00 to 19:30

The view of the woods you want from the restaurant is like a 3D picture screen of a movie theater.Please experience the season you feel with cinema size.


The natural table with warmth of wood attracts a lot of visitors' interest.


Second floor, Banquet Hall

There is no doubt that the banquet hall equipped with karaoke facilities accommodating 40 people will be excited with the right area for the company's one night trip.Moreover, as a training venue, I feel a sense of unity and have earned favorable reviews.


Manga Library

Location:In front of hot-spring changing room
Contents:
① You can read hot-spring users free of charge.
② Please refrain from using cartoons only.
③ Please read only in the Onsen Building.
④ It is prohibited to bring it out to a Nio-kan where a restaurant is located.
⑤ Guests can bring in rooms
⑥ We are also renting.
 Price: Free
 quantity: No limit
 Deadline: until about 1 month
If you would like to rent a Nio-kan please contact the reception desk.

Table tennis table and shogi table

| | |
| --- | --- |
| Shogi table charge | per 1, 500 yen / hour |
| Table tennis fee | per 1, 500 yen / 30 minutes |

Massage

Yurayura

I spent leisurely in the hot spring surrounded by nature
After warming up your body
Please heal the tired body with Yu Yoshimasu good ~ Yura ゆ ら ~.

If you wish to book by phone
080-6127-1442, Or, 0773-55-0262

Opening Hours

11: 30-19: 00(Regular holiday, every Monday·Tuesday)

menu



Full body
15 minutes 1000 yen (tax excluded)
2000 yen/30 minutes (tax excluded)
2900 yen/45 minutes (tax excluded)
3800 yen/60 minutes (tax excluded)

Foot pot reflexology
20 min, 1900 yen (tax excluded)
40 minutes, 3800 yen (tax excluded)

After 19:00, the surcharge will be 10%


Break corner

Please relax comfortably while watching TV.
The view from 5 massage chairs is healed to the utmost.

Pizza with pumpkin and rice flour (homemade)

Ideal for long-term stays such as training and training camps, from 3000 yen per person per night, simple accommodation facility Yamanoie

Guests for Overnight Stay

Reservation
To 0773-55-0443 (Fujisaki)
Ayabe Onsen Nio-no-yu, free

Mountain restaurant··Bring your own ingredients and cook your own

3000 yen per night without meals (tax excluded)
From 3000 yen per person for a banquet

Reservation to 0773-55-0443 (Fujisaki)


Guests for Overnight Stay
Ayabe Onsen Nio-no-yu

The atmosphere of the mountain house entrance

Reservation to 0773-55-0443 (Fujisaki)

Mountain house··lounge··How about relaxing time and tea with friends?

Mountain house room
Nio-kan data
Number of rooms

Total number of rooms 9:7 Japanese-style rooms
Western-style breakdown:2 twin rooms(18 to 23 m²)

Room supplement

0

Standard room facilities

All rooms bath toilet / all rooms shower / all rooms Air conditioning / Television / Empty refrigerator

Internet related

All rooms available
[Connection method]Wireless LAN
[PC rental]No
[Internet connection]Free

Amenities

Hand towel / toothbrush·Toothpaste / bath towel / shampoo / body soap / yukata / hair dryer / duvet / shaving / shower toilet / comb·brush

Service & Leisure (including arrangement)

Massage(Toll) / Putter Golf(Toll) / Buckwheat noodles(Toll) / Day use(Toll) / Bicycle for rent(Toll) / Shogi / Go Go / Tennis(Toll)

Credit cards available locally

JCB / Visa / Master / AMEX / UC / DC / NICOS / Diners / UFJ

Standard check-in time

15:00

Standard checkout time

10:00

Barrier free correspondence

Wheelchair slope in front of the entrance / wheelchair rental / passages in the facility / handrail on the stairs / barrier-free room / in-facility wheelchair movement without assistant / emergency facility in the facility / preferential space for the parking lot / wheelchair available Shared toilet

Supplement

There is one barrier-free room.Accommodate up to 4 eyes in a twin room.There is no indoor step.There is no step in the indoor toilet and the bath.

Onsen tax

Hotspring tax adult 150 yen (child free (0 years old to 12 years old)) separately.

Cancellation provisions

3 days ago:30% of room charge
2 days ago:50% of the room charge
1 day ago:50% of the room charge
On the day of arrival:100% of the accommodation fee
Cancellation without any contact:100% of the accommodation fee
※If there is a cancellation rule setting for each accommodation plan, that will be given priority.