The campsite has opened! One tent 3000 yen One night Wi-Fi is available ...
Paella can

The best match paella for camping and BBQ!
About 3000 yen for 2 to 4 servings(tax excluded)

Family classic barbecue with family this year

One set 2800 yen
One set of meat 280g
Vegetable one set 200g

BBQ at family camp

From 2800 yen per person
Hawaiian BBQ is popular

Platinum coupon ticket year-end sale! (Finished)

★December limited platinum coupon ticket year-end sale now being held!

★With the purchase of 8 coupon tickets (4000 yen)
  Get 2 free bathing tickets!

◎ You can take a bath for 400 yen, which is 33.3% off the regular bath.



Showa retro girls' journey in the steam

★Please play all day!

A limited number of 1000 coupons is being sold for 4500 yen, which is a splicing of 10 coupons for 5000 yen.

  Since you can use a more advantageous platinum coupon for bathing,

  This 10% reduced platinum gift certificate is (restaurant) (shop) (Overnight Stay)
 (Banquet)(BBQ)(Grand Golf) (Mountain home delivery lunch)
 (Table tennis) (Take away Patisserie Sweets) etc.
  Can be used widely.

Ayabe Onsen 24-hour TV special site, Ayabe Onsen 24-hour TV

It was selected as a donation venue in the second year of Reiwa.

In 2020
August 22(Saturday)
Fundraising was held on Sunday, August 23

Lots of love· · ·Thank you very much

24-hour TV

I receive a letter of thanks every year

Take a nap course and relax...

Take a break leisurely

Reservation required
One person 5000 yen(With meal)

Luxurious meal of nap course

★Room rental from 12 o'clock to 17 o'clock

★You can eat the dish of the photo at lunch or in the evening.

★Of course you can use hot springs as many times as you like within hours.



Nio-kan surrounded by lush mountains.
A rural scenery spreads in the surroundings, and the mind is healed very much.

WIFI can also be used for free, so work quietly in your room.
Or on a day off from work.

In addition, spring is cherry blossom viewing cherry blossoms, hiking in fresh green in summer, autumn leaf hunting in autumn, snow playing in winter season
Together with a hot spring and a rest in a room?

¯ ¯ ¯ ¯ ¯ ¯ ¯ ¯ ¯
One person 5,000 yen (tax excluded), you can use it with meal!
There is room use, too, you can enter for hot springs! It is profitable

Guests can use bedding and towels in the rooms.

Consumption tax 10% reduction campaign. Sell 5000 yen gift certificate for 4500 yen

You can rent a sled 300 yen

Enjoyable from small children to adults.

Please come again next year

Sledding play on February 9, 2020

Small children can also enjoy.
I rent a sled.
◎ Hand BBQ course ~ 1 set 2800 yen Reservation is required.Bring drinks OK!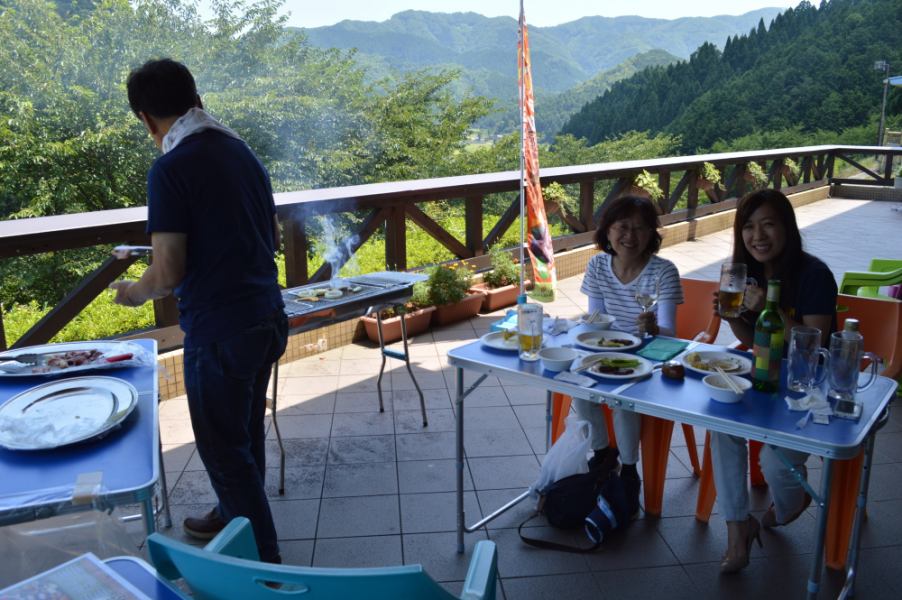 Recommended BBQ accommodation pack, (1 Night/ 3 Meals, BBQ Hot Spring plan 11500 yen Tax excluded, )
◎ Lunch at 12 o'clock Ayabe Onsen ⇒ ◎ BBQ start ⇒ ◎ 15 o Checksuin ⇒ ◎ Hot Spring Bath ⇒ ◎ Loose in the facility ⇒ ◎ 18: 30 min Dinner ⇒ ◎ Hot Spring Bath ⇒ ◎ Sleeping ⇒ ◎ 6: 00 Hot Spring Bathing ⇒ ◎ 8: 00 breakfast ⇒ check out


Great reputation for families, groups, couple etc

With one set of 2800 yen, no time with hot springs, time!

Please bring your own beverage.

In rainy we will prepare a separate facility.

Others Please do not hesitate to consult.

◎ Grand golf all-day course 600 yen per person
★Grand Golf customers are unlimited hours and cost ¥ 600 per person.Elementary school student 300 yen


*Meals are convenient at Niokan Restaurant

We are competing every month.

*There is a place to refuse competition packs of 3000 yen per person for the busy season including Saturdays and Sundays. Please note·


Please contact for more information Grand Golf responsible manager Oshima